Thai travel insurance for non-Thai visitors (5 – 80 years of age)
Cigna Inbound Travel Insurance
Coverage benefit: 3.5M THB for medical expenses
Age 5-80 years old
Single Plan up to 180 days per trip
Cigna pricing by period of travelling (30, 60, 90, 120, 150, 180 days)
This plan does not cover disease or symptoms which occur to the insured prior to date of departure
Excluded countries; Cuba, Iran, North Korea, Sudan, Syria, Ukraine, Nepal
Cover for asymptomatic COVID-19 treatment
Cover for COVID-19 test if member has been tested positive for COVID-19
Provide e-care card, e-insurance policy & COVID-19 certificate via email
100% refund if a visa application is rejected
Please read the Policy Wording carefully to understand the coverage, exclusions, terms & conditions and sections applicable based on the plan purchased
Why Should You Consider Cigna Inbound Travel Insurance
If you plan on traveling to Thailand over this period you should know that insurance against COVID-19 is a mandatory requirement. Cigna Inbound Travel insurance meets the health insurance requirements for most short term visitor visa types of 180 days or less, including the Special Tourist Visa (STV). The application process is ONLINE and the Certificate of Insurance is issued within minutes. Where medically necessary, Cigna also covers inpatient medical expenses if you're tested positive for COVID-19 (regardless of whether or not you show symptoms).
Is Cigna Inbound Travel Insurance right for me?
Cigna Inbound Travel Insurance provides cover for COVID-19 as well as medical expenses for other illnesses & accidents to 100,000 USD. The policy provides 3.5 million THB of medical expense including COVID-19 and 1 million THB of Personal Accident with choice of period up to 180 days Inpatient treatment at Cigna hospitals is cashless if you're admitted as an inpatient in the Cigna hospital network. Outpatient visits work on a pay first and claim back later basis. The policy covers motorcycle accidents but does not cover the cost for the two times mandatory COVID-19 test which is normally included as part of the ASQ hotel package. Coverage starts when the insured completes the immigration process in Thailand and ends when the insured leaves Thailand or as of the end date specified in the policy schedule (whichever is earlier).
Buy online with credit card
Certificate provided within 5 minutes
Specialized COVID-19 Coverage:
Designed to meet the requirements for your Visa and the Certificate of Entry to enter Thailand for 180 days or less:
Meets the requirements for most short term visa types including:
the TR and STV
Phuket Sandbox and Samui Plus
Qualify for the Thailand Immigration Certificate of Entry (COE) which requires cover for:
Illness and accident and
COVID-19 related medical treatment to 100,000 THB
Simply speaking, if you contract COVID-19 on your trip, you're covered (Unless you contracted it before your plan began).
Who can purchase this plan?
Cigna Inbound Travel Insurance is available to Non-Thai nationals, 5 – 80 years of age upon the policy start date. Persons from sanctioned countries (such as Cuba, Iran, North Korea, Sudan, Syria, Ukraine, and Nepal) are excluded. Cigna Inbound is suitable for persons traveling to Thailand for short periods of time who do not intend to extend their stay.
Persons applying for an O-A or O-X retirement visa require more comprehensive insurance (contact us for other options).
This plan is limited to a total number of 180 days per trip. The Insured must buy insurance before travel. It is NOT available to expat residents or persons who are in Thailand at the time of purchase. Cigna will not cover damage arising from any event already anticipated at the time of purchase.
What's the difference between Cigna Inbound Travel Insurance and full Comprehensive Insurance?
Cigna Inbound Travel Insurance is a good option if you are coming to Thailand for:
Phuket Sandbox program
Samui Plus program
Tourist visa (TR)
Special Tourist visa (STV)
Non-immigrant "O" visa
For these visa types, you only need the single travel Insurance policy to meet both the requirements for the visa and the certificate of entry. If you are over 80 years of age or planning on staying in Thailand long-term then the Cigna Signature or Cigna Signature Plus Plans should be considered.
The following table shows indicative pricing for a US or UK visitor purchasing the Inbound Insurance. Pricing differs according to the applicant's country and length of stay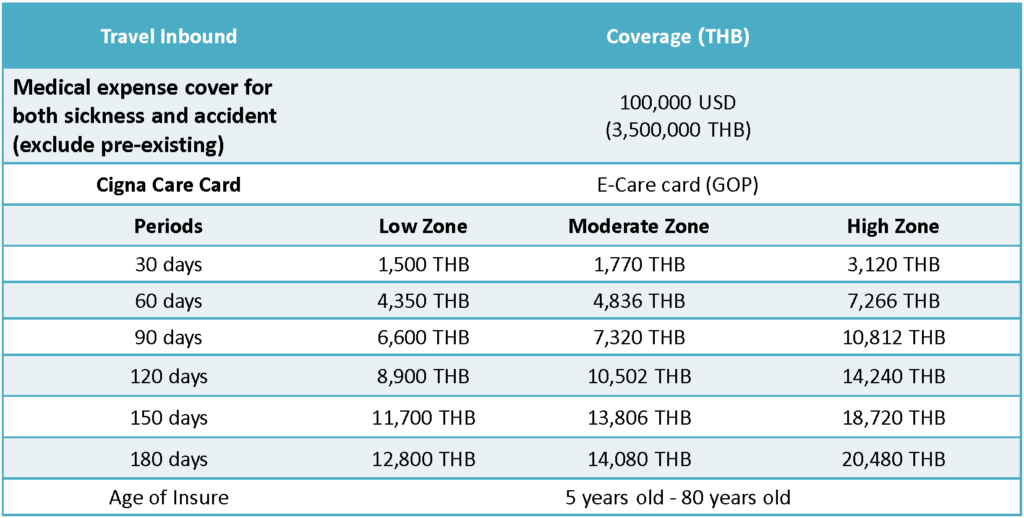 Thai Government requires COVID-19 coverage for Inbound tourist as 100,000 USD
Cigna pricing by period of travelling (30, 60, 90, 120, 150, 180 days)
Risk of country of origin by plan as Low, Moderate, and High based on https://www.cdc.gov/coronavirus/2019-ncov/travelers/map-and-travel-notices.html
Exclude Resident, Exp
Need help? Give us a call! Phone or WhatsApp +6689-897-9435