Insurance for Sporting Teams and Players visiting Thailand
Non-professional sporting teams and individuals from most countries can now apply for insurance to cover sports events while visiting Thailand. This insurance is designed to meet the health insurance requirements for visitors wanting to enter Thailand and includes cover for COVID-19, sporting accidents and other illnesses.
*Thai and foreign expats who are residents in Thailand without any medical insurance, please read here.
What does this insurance include?
Emergency and outpatient treatment up to ~$50,000 USD (For Plan 2)
Coverage for a host of non-professional sports (including rugby, AFL football and soccer) and illnesses 
Emergency ambulance from the ground or playing area
Includes cover for COVID-19
Free choice of hospital in Thailand
Coverage does NOT extend to the southern areas of  Pattani, Yala, and Narathiwat)
Premiums start 1,399 baht* (For 14 days)
Plan 2 is our recommendation, as it provides a maximum Medical cover of 1.8M and includes Emergency Medical Evacuation or Repatriation if required to 1M THB.
Exclusions related to sport
1. This insurance does not cover professional sportsmen/women, OR
2. Any injury which occurs while the insured is racing of all kinds of car or boat, horse racing, all kinds of skiing including jet skiing, skate racing, boxing, parachuting (except for the purpose of life-saving), while boarding or travelling on the balloon/glider.
Insurance is purchased on an individual basis. Please use the above link to ensure your policy can be easily linked to your sporting event and receive personalised service and support. Players should use the link to the Luma Thailand Pass above, enter their details and pay online at least 48 hours before departing their country of residence.  (Any major credit card can be used)
Benefits Table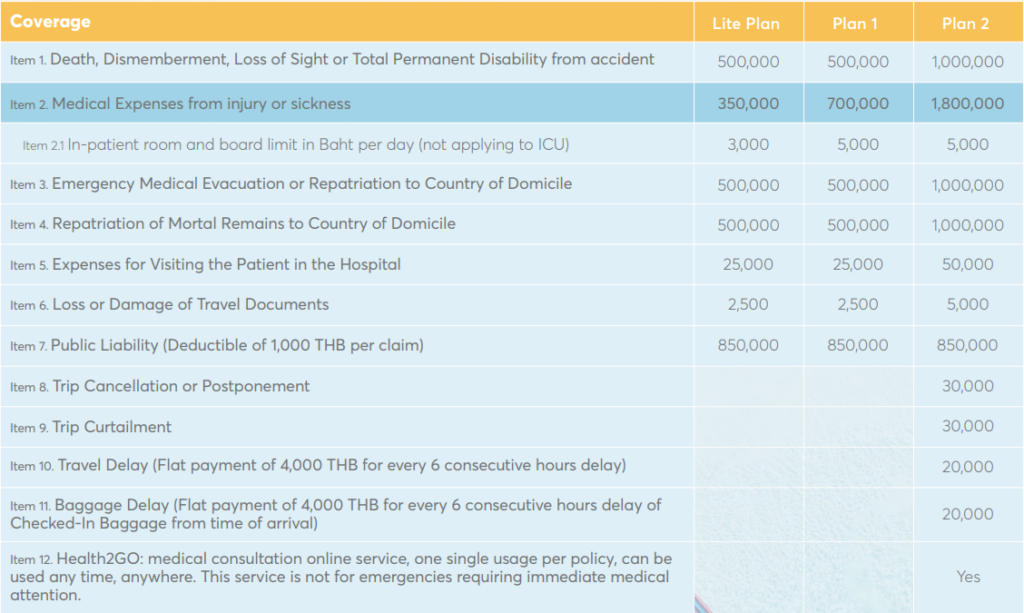 Policy Document
---
Thai and Local Expats – Contact Alan
This insurance is only available for players visiting Thailand from overseas.
Local and Expat players already resident in Thailand should contact Alan at Thai Expat Club for advice and a quotation for a local insurance policy.
Email: <[email protected] or telephone +6689-897-9435>
---
How is the billing and claim settled in the event of treatment at a hospital?
Direct billing is only offered for inpatient medical expenses related to COVID-19. For other inpatient and outpatient medical expenses, the insured must pay first and submit a claim for reimbursement. afterwards.
In the event of a claim contact:
Tune Client Solutions Team
Direct +662-078-5656, 02 078 5621 Business Hours: Mon-Fri 08:00-17:00
Email at <[email protected]>
Reimbursement will occur within 15 days after the complete claim is submitted.
Insurance underwriting conditions
Covers any medical expenses, including COVID-19, and is subject to the terms and conditions as well as the exclusions stated in The Insurance Policy.
The insured must be between 1-75 years old.

In the case of minors aged between 1-18 years old and buying with parents, please have the parents sign on the insurance application form.
In the case of minors aged between 1-18 years old and purchasing only one insurance, please ask the parents to provide additional details and sign the insurance application form.

The insured can buy a maximum of 1 insurance policy.
The insured must be in good health. There is no part of the disability before the date of applying for insurance.
The Company reserves the right not to accept insurance for the insured traveling to or through the provinces of Pattani, Yala and Narathiwat.
Terms and conditions of underwriting as designated by the company.
Travel within 14 days is subject to the minimum premium.